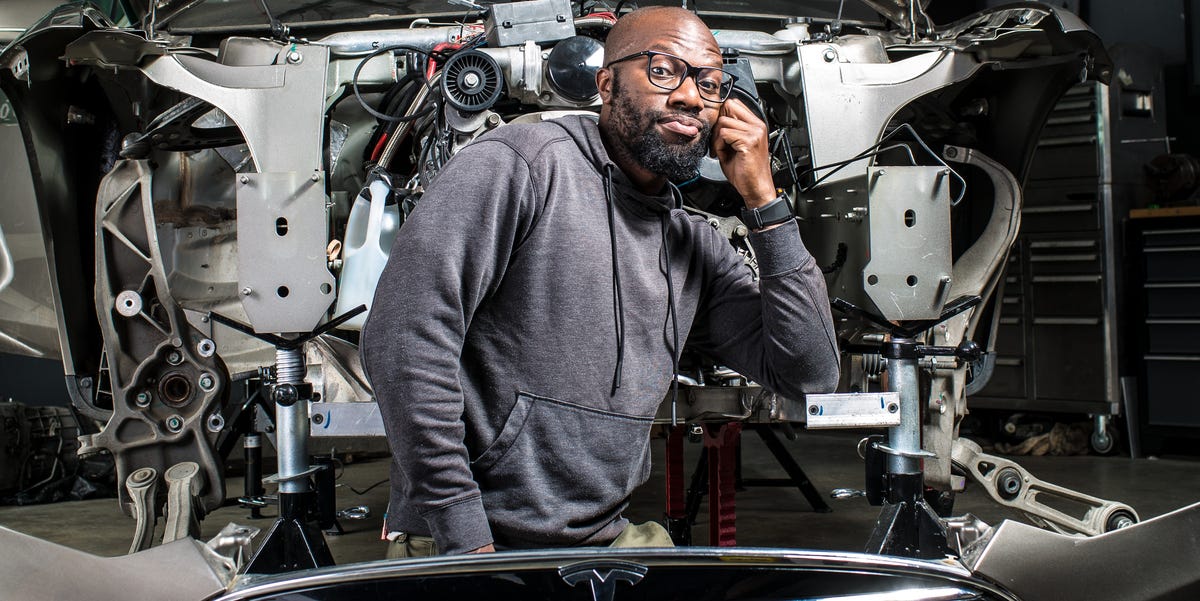 The V-8 Fights Back
Jason Paige SmithCar and Driver Rich Benoit is learning to deal with the hate. What
Jason Paige SmithCar and Driver
Rich Benoit is learning to deal with the hate. What he's doing "goes against a lot of people's core beliefs," he says. "Their reaction is visceral."
Just for the hell of it, Benoit and his pals Steven Salowsky and Joshua Dodge are packing an LS V-8 into the least likely candidate for a Chevy small-block swap: a Tesla Model S. They call it the FrankenTesla or ICE-T (short for Internal Combustion Engine–Tesla) and are documenting the project on the YouTube channel Rich Rebuilds, which has 1.15 million subscribers.
Many of those viewers first tuned in years ago to follow along as Benoit restored totaled Teslas for a fraction of the cost of a new one. But now hate is coming hard and fast from Tesla's ardent fan base, which loudly objects to this very public desecration. To those who buy every word of Elon Musk's planet-saving rhetoric, a Model S powered by a V-8 engine is a fate worse than the crusher.
When the FrankenTesla project began, a lot of followers left, says Benoit, "but we gained tens of thousands more."
"It's unfortunate they don't see the point," says Salowsky, who, with his long hair, sandals, and head-cocked sense of wonder, is the garage philosopher-poet. "It's not just about the build."
"Yeah, it's about having fun," says Benoit.
Dodge, a welder-fabricator with some serious chops, gets credit for dreaming up the Tesla V-8 project. "I just wanted to put an LS in a Tesla to see if it could be done," he says. Despite having a résumé that includes NASCAR gigs, he doesn't toot his own horn. He would just as soon fade into the background and let his weld beads—long, meticulous runs—speak for themselves. Dodge fabricated custom subframes to carry the LS V-8 and rear differential and welded a tunnel the length of the Tesla's flat floor to make room for the transmission and driveshaft.
It's a serious build, although you might not realize the extent of the ambition given the laid-back, goofy, and irreverent attitude that carries through every video. When the crew fired the engine for the first time—using a five-gallon bucket as a temporary fuel tank—they underscored the magnitude of the moment with Apollo 11 countdown audio and clips of Musk marveling at the 2018 launch of his SpaceX Falcon Heavy rocket. Running rich and without exhaust manifolds, the 6.2-liter V-8 shot fireballs into the Tesla's engine bay as it rattled the garage and Dodge's house.
The team figures they're still months from actually driving the FrankenTesla, which is fine by them. They're enjoying themselves too much to be in a hurry.
This content is imported from YouTube. You may be able to find the same content in another format, or you may be able to find more information, at their web site.
This content is created and maintained by a third party, and imported onto this page to help users provide their email addresses. You may be able to find more information about this and similar content at piano.io