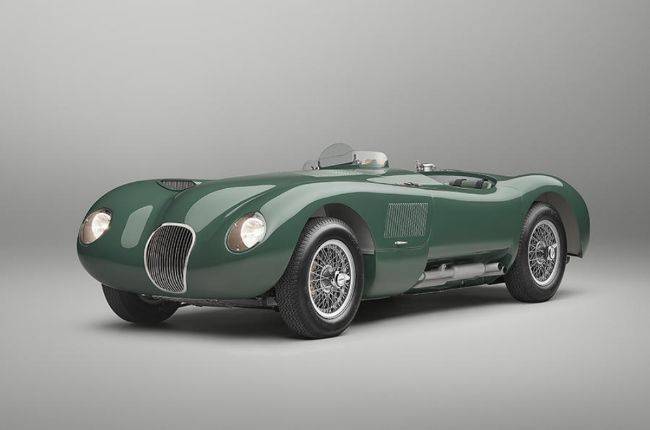 Jaguar C-Type Klasik Dilahirkan Kembali, Ekslusif Cuma 8 Unit
COVENTRY, Carvaganza – Pada gelaran Concours of Elegance di Hampton Court Palace yang diadakan pada
COVENTRY, Carvaganza – Pada gelaran Concours of Elegance di Hampton Court Palace yang diadakan pada hari ini (3/9/2021) Jaguar memboyong model klasiknya yakni Jaguar C-Type 1953. Kehadiran kembali kendaraan klasik Jaguar ini melengkapi tiga model sebelumnya di antaranya Jaguar D-Type, XKSS dan E-Type. Tampilan pada Jaguar C-Type ini mengikuti spesifikasi yang digunakan pada saat memenangi kejuaraan 24 hours of Le Mans 1951 silam. 
Di balik kapnya terdapat mesin 6-silinder 3,4 liter yang dikawinkan dengan transmisi manual 6-percepatan dan mampu menghasilkan tenaga maksimal 220 hp. Mesin tersebut dilengkapi dengan karburator Weber dan pompa hidrolik Plessey yang sudah diperbaharui. Jaguar C-Type versi restorasi ini akan diproduksi dalam jumlah yang terbatas yakni delapan unit dengan tampilan yang berbeda-beda.
"Ini adalah versi terbaik dari C-Type 1953 yang pernah kami buat, karena kami menggunakan semua gambar yang dibuat pada periode itu dan kemudian menggabungkannya secara digital. Dari sumber itulah kemudian para insinyur Jaguar mewujudkanya secara nyata. Seluruh bagian pada kendaraan ini dengan menampilkan orisinalitas mulai dari spesifikasi eksterior, interior hingga pada mesin yang berada di balik kapnya. 
Setiap konsumen yang ingin memilikinya dapat memilih 12 warna untuk cat eksteriornya dan tambahan roundel agar terlihat seperti kendaraan balap sungguhan. Di bagian dalam mobil, delapan pilihan warna tersebut juga dapat diaplikasikan pada seluruh jok dengan material kulit. Lingkar kemudi Bluemel berukuran 15 inci pada Jaguar C-Type ini juga terlihat benar-benar klasik dan dilapisi dengan kulit.  
Baca Juga: Proyek Restorasi Alfa Romeo Giulia GT Ini Gabungkan Unsur Klasik dan Modern
Proses produksi Jaguar C-Type sendiri menggunakan perangkat lunak AutoCAD untuk merancang spesifikasi desain agar serupa dengan aslinya. Selain itu, Jaguar Type-C ini juga mendapatkan persetujuan dari FIA yang artinya dapat digunakan pada kompetisi balap yang bersejarah. 
Banyak bagian yang digunakan untuk model lanjutan telah dipasok dan direkondisi, termasuk kaca spion Lucas, layar balapan Brooklands tiga perempat dan jam Smith yang diposisikan di kokpit. Beberapa bagian lebih sulit dicari daripada yang lain karena celah dalam catatan sejarah C-Type, kata Pink kepada Autocar.
Langkah Jaguar Land Rover dalam menghasilkan kendaraan klasik terlahir kembali sebenarnya didorong oleh minat konsumen yang cukup tinggi. Menurut JLR, beberapa penggemar sportscar, kolektor hingga para selebritas saat ini mulai menyukai kendaraan klasik yang direkondisi sesuai dengan wujud aslinya. Selain itu, Jaguar C-Type juga didedikasikan untuk merayakan sejarah pabrikan di kancah balapan internasional salah satunya Le Mans.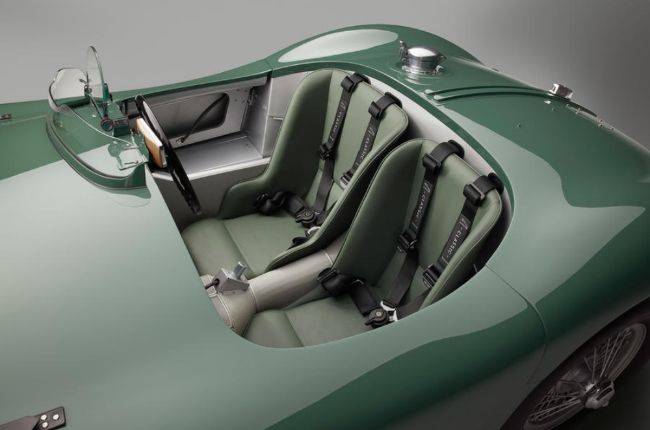 Tidak seperti pabrikan lain, Jaguar memilih untuk menghadirkan kendaraan klasik tetap pada pakemnya dan tidak mengubah bagian-bagian penting di dalamnya, termasuk menggantikan mesinnya dengan motor listrik. Karena menurut divisi klasik Jaguar, saat mengubah kendaraan klasik dengan tenaga listrik banyak hal yang harus dikompromikan mulai dari kemampuan dan nilai yang terdapat pada kendaraan tersebut. Namun bukannya tidak mungkin Jaguar akan menghadirkan kendaraan klasik dengan tenaga listrik di masa yang akan datang. 
"Saat melistriki mobil klasik, Anda harus berkompromi dengan integritas kendaraan agar menjadi listrik, dan bagi kami sebagai OEM dan 'Jaguar Classics', jika kami ingin melistriki kendaraan, kami ingin memastikan itu sangat aman dan benar-benar otentik untuk pelanggan, "tutup, Dan Pink, Direktur JLR Classic.
Diketahui, Jaguar Land Rover tengah mengerjakan proyek-proyek mobil klasik dan terakhir akan ada model E-Type dari Jaguar. Sementara Land Rover diam-diam menyiapkan model lawasnya untuk direstorasi kembali sambil menyiapkan ketersediaan suku cadang untuk konsumennya.
ALVANDO NOYA / WH
Baca Juga: TRD Rilis Paket Modifikasi Khusus Lexus ES, Eksklusif Hanya di Jepang
Sumber: Autocar