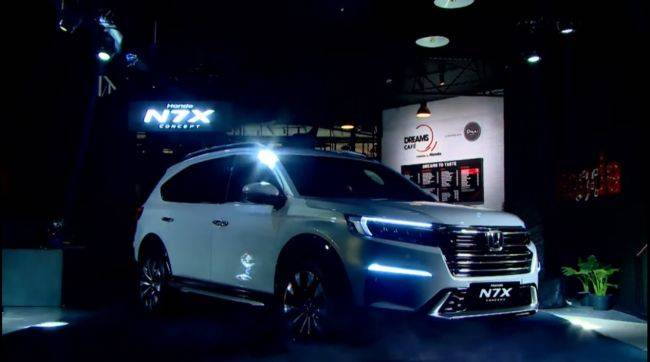 GIIAS 2021 Diundur, Honda 'Wait and See' Soal Kelanjutan N7X Concept
JAKARTA, Carvaganza – Honda pada bulan Mei 2021 lalu menggelar debut global konsep Honda N7X
JAKARTA, Carvaganza – Honda pada bulan Mei 2021 lalu menggelar debut global konsep Honda N7X dari Indonesia. Kemudian dijanjikan bahwa kelanjutan dari debut ini akan ditampilkan pada GIIAS 2021, yang awalnya dijadwalkan digelar bulan Agustus. Lalu dengan telah diundurnya GIIAS 2021 karena situasi pandemi, bagaimana nasib kelanjutan N7X tadi?

GAIKINDO (Gabungan Industri Kendaraan Bermotor Indonesia) selaku penyelenggara GIIAS telah mengumumkan resmi diundurnya pelaksanaan GIIAS 2021. Dari yang awalnya dijadwalkan bulan Agustus diundur ke bulan September, hingga mundur lebih jauh ke bulan November. Para peserta pameran kemudian akhirnya harus menyesuaikan agendanya yang sudah disiapkan, termasuk Honda.

Disampaikan langsung oleh Yusak Billy, Business Innovation and Marketing & Sales Director PT Honda Prospect Motor, saat peluncuran N7X Concept lalu bahwa akan ada kelanjutan dari debut N7X yang disajikan di GIIAS 2021. Diduga kuat bahwa yang dimaksud adalah peluncuran versi produksi N7X, meski tidak disebut spesifik oleh Billy.

Namun melihat situasi diundurnya gelaran GIIAS 2021 sampai bulan November, Honda bersikap 'wait and see' untuk mengeksekusi strateginya tahun ini, khususnya untuk produk baru.

"Pada dasarnya memang kami tetap mendukung GIIAS ya walaupun diundur sampai November, itu dengan memprioritaskan selalu pengenalan produk di ajang ini, tapi saya tidak bicarakan produk tertentu ya," kata Billy saat konferensi pers Honda Racing Simulator Championship 2021, kemarin (9/8/2021).

"Jadi kami terus pantau perkembangan kondisi dan pelaksanaan pameran nanti ya, mau dia digelar atau apa yang pasti di GIIAS itu kita prioritaskan untuk pengenalan produk baru, begitu ya. Jadi mengenai N7X, ya kami pantau terus kondisi pasarnya, apakah itu maju atau sama atau apa, nanti kita beri informasi lebih official lagi ya."

Lebih lanjut, Billy menegaskan GIIAS 2021 akan menjadi kesempatan bagi Honda menyajikan berbagai "kejutan dan excitement" baru kepada masyarakat Indonesia. Dan seperti dikatakan di atas, salah satu yang dijanjikan adalah pengenalan produk baru. Dengan pernah menyebut GIIAS bersamaan saat perkenalan N7X Concept tentu menjadi indikasi kuat Honda akan merilis versi produksinya pada pameran yang tahun lalu batal digelar.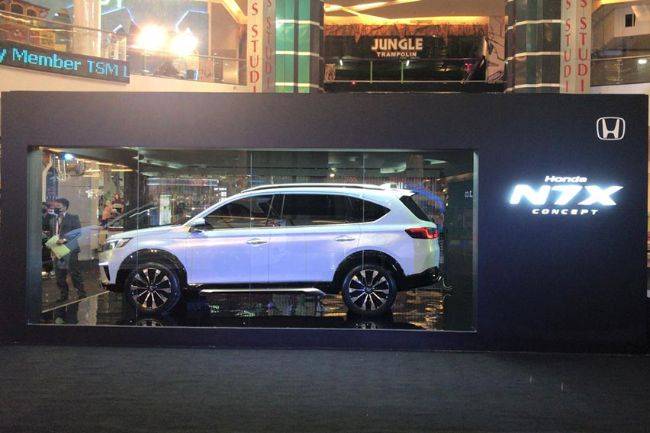 Dengan format dan desain yang diperkenalkan, kuat diduga bahwa N7X akan menjadi model generasi penerus untuk Honda BR-V yang saat ini sudah lima tahun lebih beredar. Crossover hasil pengembangan basis Honda Brio dan Mobilio itu sudah diperkenalkan sejak 2015 dan beredar pada 2016. Sudah saatnya BR-V beregenerasi, apalagi jika melihat desain N7X Concept yang identik dengan karakter BR-V.

Selain itu, kuat diduga juga kalau debut N7X tertunda setahun yang seharusnya untuk tahun 2020. Karena Billy pada awal 2020 sempat menjanjikan kejutan dari Honda untuk GIIAS 2020. Namun pada akhirnya akibat pandemi global COVID-19 yang berkepanjangan, GIIAS 2020 sepenuhnya dibatalkan dan N7X baru muncul pada Mei 2021.

Beberapa hal yang bisa ditangkap dari konsep N7X adalah Honda mengaplikasi gaya desain baru yang lebih dewasa dan minimalis. Begitu juga dengan teknologi, yang mengisyaratkan akan hadinya sejumlah fitur dari Honda Sensing, terlihat dari sensor kamera di spion untuk Lane Watch.

WAHYU HARIANTONO